As I pulled my Chevy pickup into the parking lot of Village Home & Garden, Lyle Lovett was singing "remembering the coming back and not crying about the leaving" and a light rain was rinsing the pollen and dust off the windshield. That lyric has pushed me forward since March of 2020.  Appropriate for this moment.  Probably not the the best weather for moving furniture, but it's time.
March 19, 2020 my friend Dan, owner of Village Home & Garden, offered me some storage space.  We had been closed to indoor dining just two days prior and we were taking advantage of this 'brief pause' to get at a few overdue projects.  Having some tables, chairs and bar stools out of the way would make this a little more manageable.  So the attic of the barn behind the old Agway became a temporary home to some restaurant furniture.  Just for a couple weeks.  Emotionally, this was a difficult process.  Closing a business, even temporarily, is tough.  Never before had we experienced layoffs, unemployment, shuttering.  Michael Corleone was dead wrong when he said "It's not personal, Sonny.  It's business."  It's all personal.  The landscape, the architecture, the music, the food, the lineage, the history and the relationships. It's very personal.  I like to imagine this place to have absorbed a little of the talent, the energy and the passion from the people that have built, grown, cooked, served, curated, sustained and encouraged this farm for 175 years.  Maybe even lent a little inspiration in return. It's all very personal.  When it comes to a screaming halt, it hurts.  It's painful, it's frightening and it's all very personal.  There really was no guarantee when, or even if, we'd reopen.  As I moved truckloads of bar stools into storage, I could not help but think about the people who'd occupied them over the years. The life events that had been shared.  The stories that had been told. The toasts. The games. The daily triumphs.  The losses.
And there they sat gathering dust and straw.  I can't describe how humbling it is to 'pack up yer stuff' and put it in storage.  My gratitude to Dan for the space is immeasurable. Particularly since I'm the 'seasoned business veteran' in this village at this point in time and Danny is the 'bright eyed, new kid'.  He should be able to lean on me, not visa versa..
But here we are fourteen months and thirteen days later and I'm carrying bar stools, one at a time, down the nineteen narrow steps from the loft of the old Agway barn.  The bar counters, the main bar, every inch of flooring, every table we own have all been sanded and refinished.  A new exhaust system has been installed in the kitchen by Jeff and Paulie.  A new gardening shed stands proudly. with lights!  Thanks Fred. The barn has a fresh coat of paint.  The roof mended and sealed. That beautiful fireplace has a new chimney and liner, thanks to Scott.  Andy has built and installed new wine racks behind the bar.  Patio expansion and resurfacing have been artfully completed by Jamie and Jason.  Two seasons of maple syrup production have come and gone. Countless quarts of soup, pot pies, loaves of bread, sandwiches, Andrea's baked goods and ice cream sandwiches have been sold at Village Home & Garden.  We have an exceptionally talented 'New Guy' David as our Chef.  New lighting has been installed in both porch areas.  The parking lot has a fresh layer of stone. Glen gave us his rototiller!  Brad has a winter's worth of firewood split and stacked.  Fourteen months ago my friend Rob made the new sign you see over the back bar. It's right under my grandfather's Brown Bess, that my friend Big Dave kept safe the whole time. It's that personal.
My grandfather was a carpenter.  He died long before I ever dreamed about owning a restaurant.. I have no idea where he got this little pearl…  "Ricky, me brave boy…don't count your friends at your Grand Opening.  Count em at your "Going Out of Business Sale"…  boy I'd love to tell him about the Daves and the Steves and Gary and Pat and Greg and Joe and Keith and Nancy and the farming families and everyone else who went out of their way to help us survive to this point.  This barn has friends.  Really great friends.  And a really great dog!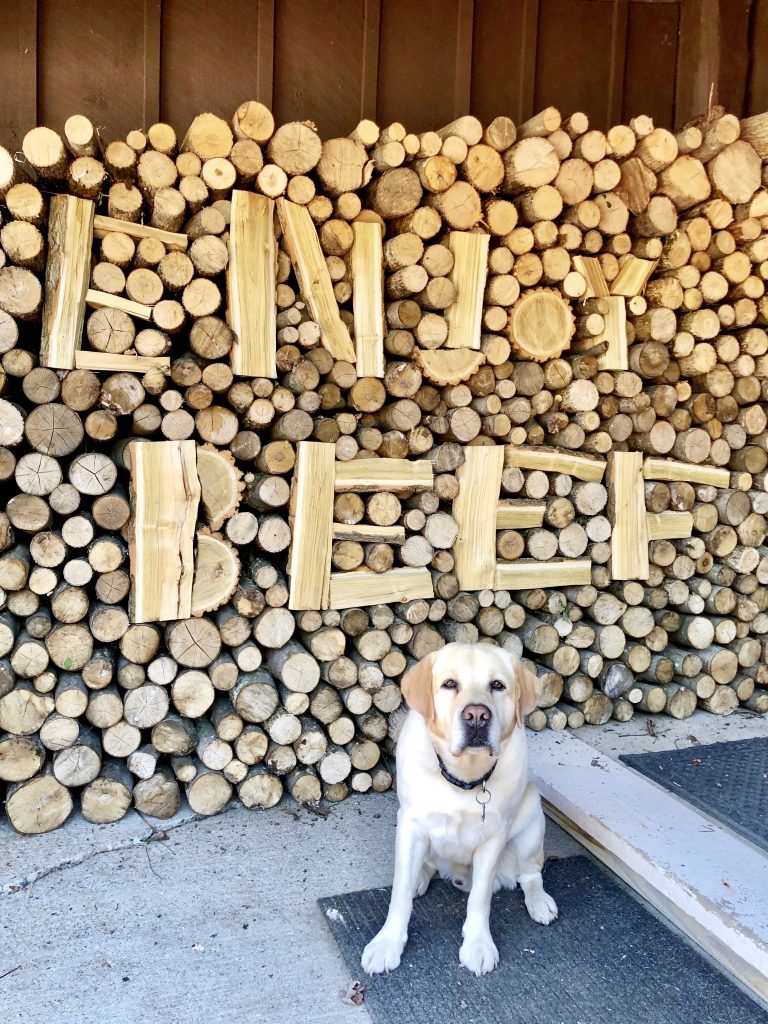 Yes!!  Lucy's still here too.  Ya just have to try a little harder to see her.                                                                                                                                   We have chickens!  Tim and Chris recorded an album here. And Ev's wooden chain is back. That is exceptionally personal.
We've hosted our first prom and our first two band, two stage concert. We've celebrated our 44th and 45th Anniversaries.  We've rejoiced in survival. And we've cried over lives ended.   Vicki became a grandmother as Spring and time prove themselves welcome and dependable.  And every single particle of this is personal.
We're here.  We're standing.  We can't wait to see you. We're ready.  Pull up a stool.  Not Jim's!  Grab a different one. Bring your stories. You're gonna have to listen to Scotty going on about the Rays.  Adam's gonna wanna show you his custom glassware.  Dougie will probably be the first one to welcome you home. If the fire in the bar's lit, my mom gets the stool closest to the flame on Wednesday night.  Everyone else in the bar already knows that.  Please forgive me if I go on and on when Kimberly asks about my daughters. That's what I do !   It's personal.
As I put the very last stool in it's place, John Prine is singing appropriately …
"Come on home.  Come on home.  You don't have to be alone…"
Welcome home.
Thanks for stopping in…